Lacikonyha
Seasoning
dried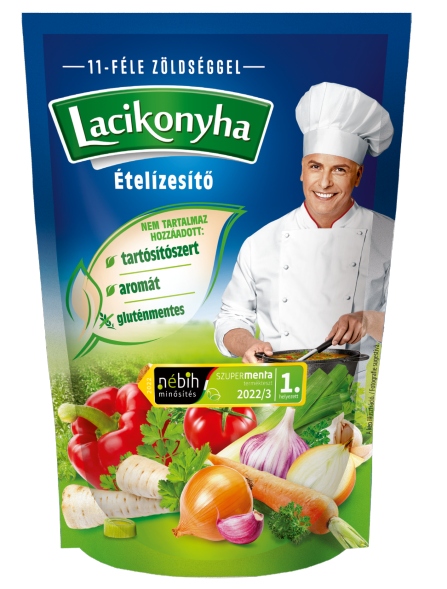 Thanks to the Lacikonyha seasoning, preparing your favourite dishes is easy, fast and convenient, and the taste is simply perfect. Lacikonyha seasoning is a great addition to many dishes and is an essential ingredient for enhancing the flavour of meat and vegetable dishes. A great base for sauces, fillings, one-dish dishes and savoury pastries.
With 11 different added vegetables including carrots, onions, leeks, garlic, parsley and sweet paprika, dishes made with it provide delicious, home-cooked flavours for everyone in the family.
The 200 g product of ours is sold in an excellently usable and easily resealable packaging.
weight: 75 g, 200 g
Do you know, that…
In 2022, the 200 g resealable packaging of Lacikonyha flavoring won the 1st prize in its category in the NÉBIH Szupermenta product test.
How to use
We can use it to prepare all kinds of boiled, fried and cold dishes. We also recommend it for marinades, sandwich creams and salads.